3 Ways Analytics and Intelligent Applications Inform Business Strategy
3 Ways Analytics and Intelligent Applications Inform Business Strategy
With so much data constantly running through your automated and digitised procure-to-pay (P2P) solutions, your organisation might feel lost when it comes to finding your way through it all. But really you shouldn't because you're actually in the best position possible—one where you're empowered to deliver critical information to your company from one central location. And this information can change the way you do business.
Analytics is changing P2P. Measly reports created in Excel don't hold a flame to modern analytics. These intelligent applications are capable of not just showing the stats but instead gathering relevant data in real time meaning you can alert-up instead of drilling-down. And it's coming at an important time. Forrester's vision for the future of P2P includes intelligent platforms and their ecosystem and plugins and applications, not necessarily an end-to-end solution. It's believed that these intelligent applications will include:
Embedded AI,

Low-code extensibility,

Intuitive usability,

Open integration,

And a platform as a service (PaaS) ecosystem.
Here's a sneak peak of what we'll cover in our upcoming webinar "Power your Source-to-Pay with insightful and predictive analytics" on Thursday October 24th from 1:00 - 2:00 PM BST (2:00 - 3:00 PM CEST / 3:00 - 4:00 PM EEST).
1. Set attainable KPIs based on analytics
Peer benchmarking gives companies the insight they need to judge whether or not they're aligned with high performers in their industry using key performance indicators (KPIs). Basware has identified a few key measurements of success companies should use. These KPIs include:
e-invoice rates,

spend under control,

automated invoice processing, and

payment times.
But these KPIs can't be unattainable, nor can they be a cake walk. Setting attainable goals that everyone can measure against helps your organisation commit to the goals and strive to achieve them.
For instance, for procurement you could use your data and analytics to look at non-compliant spend and determine which categories or departments need more spend control. Then, you could set your KPI around achieving more spend under management by increasing PO usage or establishing payment plans for recurring non-PO spending. Or for AP, you could set KPIs around increasing invoice matching and e-invoicing rates. Whatever your KPI is, the point here is to turn away from unattainable or nondescript KPIs, and instead choose KPIs that can be directly influenced by just changing the way you operate.
2. Benchmark against the best
Benchmarking is the process of seeing where your organisation stacks up against the competition, what you're doing right and wrong, and what you can do to improve. When you benchmark your business, you check-in on your performance, consider holes in your reporting, and examine your data closely.
Peer benchmarking gives your organisation the ability to see how you compare to industry leaders and top performers, providing you with an opportunity to get to know yourself and your competition better.
Basware offers peer benchmarking in our Analytics solution to help customers understand their P2P performance and decide if they're aligned, behind, or ahead of the industry average. Armed with visibility of this caliber, the entire organisation, from procurement to AP and every step in between, can plan for their future and set actionable goals backed by data.
With data at the core of almost every technology, benchmarking has become a routine part of how we manage success against our goals. And since Basware has the world's largest open business network, we have the unique capability to access data from across millions of transactions on our network. Meaning customers have even more data to use in their benchmarking initiatives.
3. Use smart data to gain spend visibility
At Basware, we preach it all the time—data is vital. And it's a message we'll continue to repeat because the key to a customers' success is dependent on building a data set, layering it with advanced analytics, machine learning, and artificial intelligence, all to gain a competitive advantage and beat out competitors.
Keeping an eye on spend, saving costs wherever possible, and predicting spend irregularities or excesses in the future are all important parts to keeping an organisation afloat. Basware's Committed Spend Analytics gives users complete spend visibility into all open spend, regardless of where it's coming from. These analytics include 100% of spend, both direct and indirect, POs, payment plans, and non-PO invoices giving insight into both past and future spend. Accuracy levels of these predictions increase as more financial documents are processed through your automated solutions. And all this visibility provides priceless insights into finance and procurement processes so that better business decisions can be made—based on analytics and data.
Ready to learn more?
Believe it or not, this is only a sampling of what will be covered in our upcoming webinar. Register now and join us Thursday October 24th from 1:00 - 2:00 PM BST (2:00 - 3:00 PM CEST / 3:00 - 4:00 PM EEST) for an in-depth discussion on:
Optimising your data temperature

The difference of alerting up versus drilling down with your intelligent applications

The value of third-party data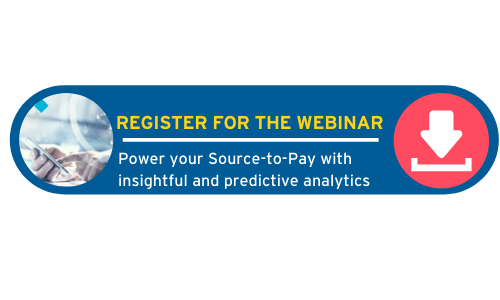 As a Product Marketing professional with 15+ years of experience, Sanna has a proven track record in creating and developing value propositions and messaging to successfully take new solutions to the market. Throughout her career, she's been intrigued by new technologies and how they can significantly change how businesses operate. As a Global Product Marketing Manager at Basware, she is focused on communicating and positioning true automation for the office of the CFO.