What a touchless invoice really is and how you achieve it in Accounts Payable
What a touchless invoice really is and how you achieve it in Accounts Payable
You've probably heard the phrase 'touchless invoice' thrown around as if everyone knows what that means. The reality is every provider says it, but it does not mean the same thing for every solution. In this blog you will learn what makes an invoice truly touchless, what steps are needed to achieve touchless invoice processing, and what probing questions you can use to evaluate different technologies on your way to touchless processing.
How to define a "touchless invoice"
At Basware, when we say 'touchless invoice' we mean that when an invoice is sent to your company:
The invoice data is automatically extracted from that invoice and mapped into Basware AP Automation;

PO-backed invoices are automatically matched to POs, goods receipts, and any other required matching points;

Non-PO invoices are automatically sent to the right individual(s) for review/approval; and

Once matched or approved, invoices are automatically sent to the Enterprise Resource Planning (ERP) tool for payment without involving anyone from your AP department.
This also includes not going into other systems to make corrections or manually perform tasks related to this process (e.g. – issuing a PO after the invoice is received or editing a PO to make it match).
So, the invoice is literally touchless – hands-off, completely automated, and does not require anyone in AP to do anything unless there is a discrepancy (e.g. – price difference, outside tolerance, etc.). Our goal for you at Basware is to leverage the advanced technology we offer (we'll get to that later) to shift the majority of your invoices to this touchless state so that your AP team can shift focus to only resolving invoice discrepancies – what we call managing by exception. And we even want to go one step further - we intend to automate the entire process to ultimately become 100% touchless. To reach this, all possible exceptions and deviations in the process need to be identified and automated, one by one.
This means automation is delivering significant efficiency for the bulk of your invoice volume and enabling you to realise cost savings from the reduced workload and cost avoidance by not having to hire additional clerks. AP teams can also be redeployed to support initiatives like clean-up of supplier master data, resolving issues with the supplier on the front end to prevent exceptions, and exploring opportunities like dynamic discounting.
So, how do you make the 'touchless invoice' a reality?
Let´s look at the 4 areas that will help you become truly touchless:
Invoice ingestion

Automatically matching PO-backed invoices

Automating non-PO-backed invoices

Business Insights with actionable improvement advice
Let's start with invoice ingestion.
Capture 100% of your invoices electronically
Before we get into the nitty gritty of how invoices are handled within your company, let's talk about how they even get there in the first place. A touchless invoice ingestion process is one that
Captures 100% of your invoices,

Electronically extracts the data, and

Maps it into your AP solution without human involvement.
This very first step in the process is crucial to fully understand because it is a major value driver and impacts all the players in your full P2P process.
Going into solution evaluation, make sure you have the answers to these questions:
How many invoices do you receive and process annually?

How are suppliers sending you invoices today? (e.g. – paper, emailed PDFs, direct connections like EDI/cXML, supplier portal, etc.)

What are the volumes of invoices on those different entry channels?
Then, make sure your providers all have an answer for how each of those invoice types will be ingested – what is automated and what requires manual effort from you. Dig into the details of those answers because this is where you will see how much automation is available and if there are requirements for you or your suppliers, which ultimately means resources, cost, and risk potential.
Watch this video to understand how Basware's approach to invoice ingestion sets us apart.
Automatically Match PO-Backed Invoices – Even in Complex and Varying Situations
Your goal for every PO-backed invoice is to be automatically ingested into your process and matched to the PO and a goods receipt without manual intervention – this is what enables your AP team to shift away from the day-to-day handling of every single invoice to focusing on only invoice discrepancies. Most P2P providers can accomplish a 3-way match on a basic level, but how often are your invoices straightforward and basic? If you are like most of the customer base, some of your processes related to invoices are simple and some require more involvement. At Basware we believe in applying automation to as many invoices as possible, regardless of how simple or complex they are by nature.
When you are going through a vendor evaluation, make sure to understand how these advanced matching scenarios are handled, so you can ensure your chosen solution covers all nuances and intricacies of the AP process to become truly touchless.
Match invoices to POs generated in other purchasing systems: If you are using a different procurement solution to create POs or generating POs from your ERP – that's no problem at all. Our superior integration capabilities will pull that PO data into Basware and automatically match your invoice to it.

Cover all matching scenarios: You need automation for all the ways your suppliers invoice you: one invoice that spans multiple POs; multiple invoices for one PO; many invoices across many POs.

Get the match even when invoices and POs are not identical: Because Basware collects the data from your POs and goods receipts, we can look at data points like date and quantity details to get the automated match for that invoice. Not only does this mean more touchless invoices, but it also keeps your AP team from working on what we call "erroneous exceptions."

Automatically identify and code additional costs: Sometimes invoices arrive with costs that you do not account for on a PO, like taxes or freight charges. With Basware's keyword recognition, we can automatically recognise and properly code the costs according to your business rules.

Go beyond 3-way matching: Maybe you also require a quality inspection for certain items, or maybe you want to associate the invoice to contract terms. We can add as many matching points as you need to meet your business rules and ensure the invoice is approved for payment.
Dig deeper into this blog to understand how Basware's approach to advanced matching sets us apart.
Automatically Match non-PO Invoices: Never say "No PO, no pay" – Say "No PO, no problem!"
Throughout your AP automation project, you may hear providers telling you that you should instate a "no PO, no pay" policy with your suppliers before processing their invoices, or that you should get more spend under management by focusing on the procurement side of the house first and issue more POs.
But let's be honest, that's unrealistic and will not help your AP problem. "No PO, no pay" policies simply do not work and there are certain categories of spend that will mostly stay non-PO (e.g. utility bills) – and that's ok. We recommend an iterative approach that helps you realise ROI quickly and enables automation of non-PO invoices.
There is always going to be some level of non-PO spending at an organisation – POs do not always add value; sometimes they hurt end-users. When there is a plumbing emergency – are you really going to require someone to issue a PO? No, That's not realistic. Do your utility companies accept POs? Probably not. And if one of your valued suppliers invoices you without a PO, are you really not going to pay them for the goods and services rendered? Hopefully not.
At Basware we do not believe in straining your supply chain or eliminating non-PO invoices, we believe in automating these invoices. Here's how we inject automation for non-PO invoices:
Automate non-PO recurring invoices: Think about the invoices your AP team deals with every month that are essentially the same – utilities, mobile phone bills, rent, leases like copiers, etc. With Basware, you can automatically match up to what we call a 'spend plan' that AP sets up and is processed in a touchless manner.

Automate approval workflows: For your non-PO invoices, Basware will automatically send them to the right person for review and approval based on whatever attributes you define.

Leverage AI to code invoices: When approvers receive non-PO invoices, Basware's SmartCoding leverages historical coding and invoice header data from the solution to generate a very accurate proposal to the user on how they should properly code the invoice.

Auto-code non-PO invoices: Using technology similar to our auto-coding of additional costs on PO invoices, we can also automatically code non-PO invoices using attributes on the invoice (e.g., supplier, reference person, description, etc.). Then the invoices can be auto-routed for payment or sent to an approver to confirm.
Dig deeper into this blog to understand how Basware's approach to non-PO invoices sets us apart.
Leverage Business Insights with continuous improvement recommendations
Becoming touchless is a journey the customer takes together with us. Together we can empower your AP staff and build a learning path – from manual handling to analysing the data, to seeing the deviations, and taking the action to improve the process.
There are several ways to help our customers consistently lower the number of touches to ultimately become touchless.
Visibility into human interactions with invoices: We can provide insight into where touches occur and why they are happening in the process. Sometimes manual intervention might be justified but if the automation is not achieving what it should, we give you the ability to pinpoint what is not working and investigate why.

This information includes: who is touching the invoices, what touches are being done, and which suppliers cause the most manual touches to invoices.

Based on the data analysis, Basware can also provide a third level of data: Such as concrete recommendations for adjusting your processes. For example, activate automatic invoice transfer to replace a manual invoice transfer activity or propose activation of spend plans to reduce the number of non-PO invoices.
Effectively, you get a virtual data analyst to work with to continuously improve your automation rates.
Conclusions: Your next step to take
Your time and your sanity are valuable – do not be afraid to challenge solution providers on 'how' the solution delivers the value they claim it does. Asking the key questions raised in this blog will help you better discern and understand how providers differ from each other and where Basware can support you best. Ultimately, your project will be successful if you ensure that the solution and provider are strategically aligned with your goals. Good luck – you got this!
Download our free whitepaper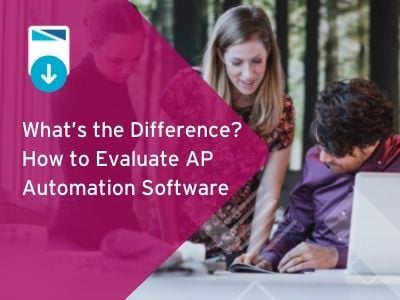 PDF
How to Evaluate AP Automation Software
At Basware, we understand the unique challenges you face when selecting solution providers to advance you on your automation journey. In this whitepaper we offer tips and guidance for the entire vendor selection process.