Go Greener in Energy & Utilities with Digitization and Automation
Go Greener in Energy & Utilities with Digitization and Automation
No matter how big or small your organisation, or how many invoices your AP team processes annually – if you are still relying on paper invoices and manual processes, you are likely facing several challenges. These challenges include the high cost of invoice processing, lengthy payment cycles, unnecessary errors and exceptions, increased supplier payment status inquiries, late payments…any of this sound familiar?
But what most organisations overlook is that paper invoicing has consequences far beyond just process inefficiencies and higher costs. The environmental impact of invoicing is not often factored into the equation.
With the atmosphere's current carbon dioxide level hovering around 417 parts per million (ppm), companies are recognising their impact on the environment and looking for ways to adopt sustainable business practices. Through the powers of technology and invoice automation, organisations can now track their CO2 index and use this information to be better environmental advocates.
With energy use contributing to 73% of all emissions globally, Energy and Utilities companies are the key players in the climate change issue​.
Almost two-thirds (64%) of organisations say also that they have generated a revenue increase from sustainable operations and offers, with more than half of organisations investing in at least six clean sources of revenue.​
The Cost of Paper & Manual Processes
Consider this, 10% of trees cut down globally becomes paper for invoices. And the disproportionate amount of energy required to produce these invoices equals the annual energy consumption of 20 million households. If you are an energy & utilities organisation receiving 20,000 invoices a year, that amounts to 96 trees, 300 tons of water, and 24 tons of CO2 annually. Globally, 70% of invoices are still sent in paper format – that's a lot of trees, water, energy, and CO2 emissions.
When paper reaches the end of its life cycle, it's sent off to a landfill or incinerated, thus producing greenhouse gases like CO2 as it breaks down. When we produce and dispose of these paper products at a faster pace than the plants and trees can consume the CO2, we create an overabundance of CO2 in our atmosphere.
Take a look around your office. If you're still receiving paper invoices by mail or getting a PDF invoice by email, printing it out, and then re-entering the information by hand into your accounting system, there's a better way to improve your processes and help reduce your carbon footprint.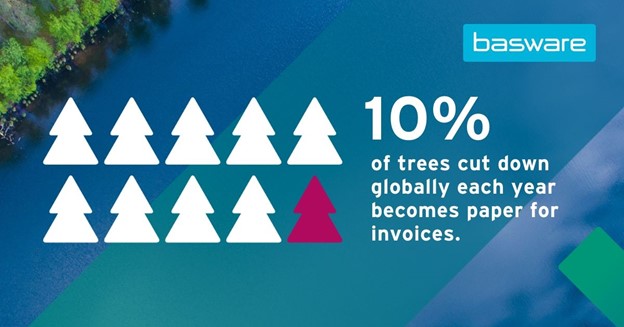 Additionally, according to the Billentis, the cost of processing a paper invoice manually is €17.60. And it doesn't stop there. It can cost your supplier an additional €6.60 to send that paper invoice. By receiving and processing invoices electronically, you can reduce the cost per transaction of an invoice by 64% from €17.60 to just €6.40.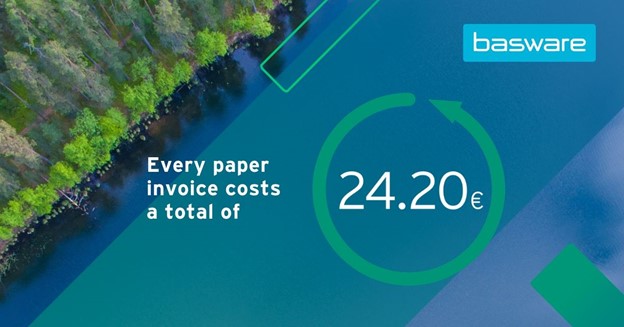 So, what does it take to make the switch from paper-based systems to electronic invoicing, to positively impact your organisation and the environment? The answer is automation—electronic procure-to-pay (P2P) services are a clear winner over paper-based, manual processes. To learn just how much digitising finance and procurement can help with sustainability, Basware teamed up with sustainability consulting agency 3keel to complete a CO2 emission study of Basware and to analyse scientific and industry reports on how kicking the paper habit affects climate change and greenhouse gas emissions.
Just think about how much your company could decrease its own carbon footprint through adopting sustainable solutions like e-invoicing, P2P automation, and a holistic digitisation of your organisation's processes. The more businesses that think this way, the less effect we'll have on increasing CO2.
Improve green credentials
Electronic invoicing is also an opportunity for organisations to improve their green credentials by reducing CO2 emissions. A recent scoping study by Basware into the carbon impact of electronic invoicing revealed that switching from paper-based systems to our electronic invoicing services results in an estimated 36% reduction in emissions.
Basware recently introduced a sustainability dashboard in our analytics application, which shows customers their average CO2 index/invoice, enabling them to benchmark their index over time or against other organisations in our Network. The carbon footprint index is calculated based on the environmental impact of different invoice receiving methods. Companies can follow the development of their own CO2 index over time, as well as benchmark against the average carbon footprint within the Basware community. The dashboard also estimates how many trees or water you've saved or could save if you onboard more suppliers to e-invoicing. Companies can also view improvement potential per month.
If you haven't already, it is time to evaluate options to go paperless with electronic invoicing. In the short term, it will save your organisation time and money and enable your AP staff to work from wherever needed. This allows your strategic and smaller suppliers to be paid on time or even early, strengthening the supply chain. In the long term, you will make a significant contribution towards protecting the environment.
Make a Difference by Digitising Your Procure to Pay Processes
First and foremost, the more automated your processes are the less paper that is required to support your business.
Get rid of an over-reliance on paper and reduce your contribution to CO2 emissions, while reaping the benefits of cost savings and efficiency.
Secondly, as stated earlier, the largest source of human-induced CO2 emissions comes from using coal, oil, gasoline, and diesel. So, start considering how a digital workplace can enable other sustainable business practices:
A digital process means you can encourage remote work. Working from home decreases emissions from one of the costliest contributors to the carbon problem—transportation. Every gallon of fuel burned creates about 20 pounds (or 9 kilograms) of carbon dioxide.

Cloud computing means less infrastructure is required to power your business from a hardware and IT perspective. So that means fewer servers and less equipment are needed, decreasing CO2 emissions produced from those items.

Efficient procurement processes enable bundled orders and shipments, meaning less pollution from fewer deliveries and fewer packaging materials needed.

Connecting to a business network means you can identify new sustainable suppliers and source goods and materials from companies that share your values.

Funding for other sustainability measures can be generated from the cost savings you realise with going digital.
So, it's not only about the paper, but also about an overall more efficient way of operating. The fewer working hours you spend on the P2P process, the less energy you need, leading to fewer emissions.
Learn More
Download this Roadmap to Procure-to-Pay (P2P) Transformation for Energy & Utilities Companies ebook to determine the actions you can take in your procure-to-pay (P2P) operations to future-proof your organisation for today, tomorrow and the future.