e-Invoice Sending is Accelerating – Are You Ready?
e-Invoice Sending is Accelerating – Are You Ready?
The European Union set the standard on e-invoicing for European public procurement (Directive 2014/55/EU) in 2014 and laid down the regulation for the European governments to adopt e-invoicing in public procurement. Are you ready to adopt e-invoicing as well?
Some organizations have been sending e-invoices for years, while others are still sending paper. By 2019 public authorities in Europe should have capabilities to receive invoices electronically from their suppliers and therefore more organizations are encouraged or in some cases required to send e-invoices to the public sector – depending on the local regulations. Wherever your organization is in its automation journey, read on to learn the benefits of going electronic and understand what the upcoming regulatory implementations mean for you.
Why should you send e-invoices?
Companies gain tremendous benefits from sending e-invoices to their customers – streamlining processes to increase efficiency, decreasing costs, speeding up payments, and gaining visibility and control. Plus, your customers can receive their invoices via their preferred channel and in any digital format.
e-Invoice sending helps organizations realize these benefits by automating invoice validation, format conversions, and routing, and meeting compliance requirements.
Why is e-invoice sending accelerating?
One word: regulation. Organizations in the public and private sectors across the globe are seeing more government mandates related to e-invoicing, catalyzing some countries toward digital maturity.
Mandates in the Public Sector
Global companies are facing increased pressure to go electronic from the public sector, which has recognized the benefits of e-invoicing – efficiency, cost benefits, tax compliance, fraud control, etc. The European standard on e-invoicing was introduced in 2014 (Directive 2014/55/EU) and set the requirements of e-invoicing for European governments. While some countries are in the process of defining and setting e-invoicing regulations, several countries (Denmark, Finland, Spain, and Italy, for example) have been mandating e-invoicing for business-to-government (B2G) invoices for years. These types of mandates have a ripple effect, encouraging more and more businesses to go electronic.
Mandates in the Private Sector
The public sector isn't the only place that can expect to see new regulations on e-invoicing. Some countries are taking the next step introducing mandatory regulations for B2B transactions as well.
Recently, Italy introduced regulation extending e-invoicing requirements to B2B e-invoicing. Starting in January 2019, Italian organizations are expected to join the B2B e-invoicing and automation movement. Other countries are expected to jump on the bandwagon as the benefits of e-invoicing become more widespread.
In countries where B2G standards are not established, the PEPPOL standard for e-invoicing could play an important role and provide a strong option for both B2B and B2G commerce to begin standardizing the financial documents being exchanged between organizations. For example, Singapore is the first country outside Europe that has aims to adopt PEPPOL e-invoicing as the standard.
Where do I start now with e-invoicing?
Keep up-to-date on new and changing regulations for government enforced e-invoicing mandates, noting different formats, processes, or archiving standards.

Evaluate your current e-invoicing solution and determine if it can support global business growth by automating compliance with various regulations.

Understand that tracking local requirements manually and building new technical capabilities to meet those requirements can take time and be very expensive.

Contact Basware to leverage our expertize.
How can Basware help?
Basware has been providing e-invoice sending services since 2000. With our excellent technical capabilities, we support multinational requirements that enable you to send invoices electronically to all your customers: whether it's B2G, B2B, or B2C. Through a single connection and open interoperability network, you can start collaborating with your customers, wherever they are, comply with complex and changing global and local regulations, and deliver invoices in your customers' preferred format.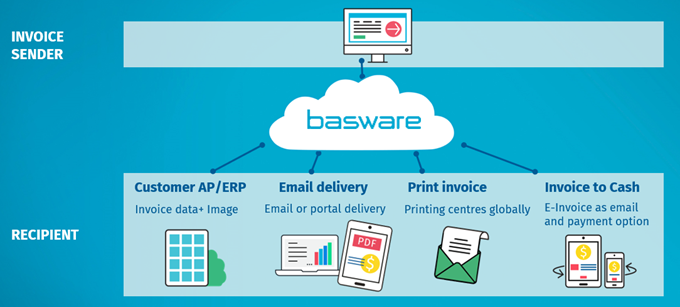 Why should you use Basware for e-invoicing?
You can send 100% of your invoices as e-invoices right away.

We provide best practices and support with compliance globally.

We support all invoice formats.

Basware Network is the largest open network with more than 200 interoperability partners.

We help you onboard your customers.
Introducing Invoice to Cash
Basware offers a new channel for customers who transact with small businesses and consumers. Our Invoice to Cash (I2C) service provides these suppliers the ability to send invoices by email with an easy and instant payment option. With I2C payment service, you simplify and accelerate your cash collection, decrease the amount of payment reminders, and gain the visibility into your customers' payments.
Ready to add e-invoice sending?
If you're ready to either implement an e-invoicing solution or see how we can simplify your current process, we're here to answer your questions and assist in any transitions. Contact us to plan your next steps.