Advice on Digital Transformation – From People on the Journey
Advice on Digital Transformation – From People on the Journey
86% of enterprise decision makers surveyed say they have two years to make inroads with digital transformation (55% say a year or less) before they begin to suffer from financial or competitive threats.1
I recently had the opportunity to attend a Business Development Institute (BDI) luncheon that brought together a handful of finance and procurement professionals and an active panel to drive a thought-leadership, forward-thinking discussion on the future of the purchase-to-pay world. The conversation was enlightening in many ways, but what was clear is that everyone is somewhere on the path to digital transformation and business leaders agree time is of the essence. If you're not a part of the digital revolution, you're getting left behind by it. But the good news is, there are pioneers on this journey and sharing lessons learned and advice along the way helps everyone.
What is digital transformation?
Kurt Albertson from The Hackett Group was our gracious moderator for the day and he kicked off the luncheon with a definition of digital transformation. He said The Hackett Group defines digital transformation in four parts: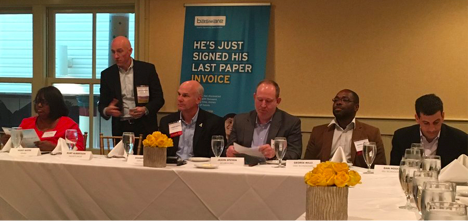 What was their advice on digital transformation?
As the discussion kicked off there were five key pieces of advice that surfaced that I think will help those on the digital transformation journey realise success in the four pillars above:
Build in self-service aspects: As a culture we are moving to a self-service way of life – we check ourselves out at the grocery store; we pump our own gas; we google how to fix things ourselves. So, it makes sense that accomplishing tasks like buying the goods and services we need to do our jobs should follow that model with the help of intuitive e-procurement tools and internal ticket logging. One attendee at the luncheon mentioned this helps create accountability and visibility – business users can't simply blame the purchasing department for getting the wrong item or say they don't know what's happening. Instead, they take oneness in the process while the procurement department works to make getting the right item for the right price the easiest, fastest thing to do for everyone. Another attendee said that they strive to provide stellar customer services to their stakeholders, so they track performance using the Net Promoter Score (NPS) system internally (i.e. – How likely are you to recommend this process/solution to your colleagues?).

Meet your customers where they are: In taking that culture-centric approach, don't reengineer processes and build systems for the procurement or AP departments – think of the end users first. If internal users are constantly on-the-go, focus on mobility and ease of use. One of our panel leaders from a staffing firm said a large part of their users are contract laborers. For their company, it was key to take the application process for those users completely electronic and make it easy for them to complete and submit required paperwork digitally.

Ensure a speedy implementation: When sourcing and implementing technology platforms to support transformation, the group was emphatic that a speedy implementation is key for realising ROI and getting approval for the solutions. The group felt strongly that for project owners to demonstrate success of new solutions, they had to start seeing results fast. And when getting buy-in from the CFO, it's important to show the shift from CapEx to OpEx and benefits to the balance sheet.

Visualise the full picture: The panel members pointed out that researching finance and procurement solutions is two-fold: it's important to visualise the full picture but consider modular solutions that make it easy to scale. Defining the full picture of "what could be" helps ensure a strategic approach to transformation and that you're not being short-sighted, while modular options make it easy to buy and support a phased implementation, enabling companies to layer on automation as they transform. Those in attendance recommended mapping out the entire purchase-to-pay process in its current structure, highlighting integration points with other back-office solutions. This map will help build the requirements document and capture potential weak spots where a process could break down if integration is not seamless.

Think global: Along with thinking "big picture," multi-national and growing enterprises need to think about operations from a global perspective. As one attendee said "Users are global – this is what they want. They sit in different geographies, but they want the same experience." The world is getting more connected every single day and transforming organisations should consider the needs of everyone in the enterprise across various countries, using multiple currencies, speaking different languages and complying with varying regulations – keeping in mind all these locations are ultimately working towards the same overarching goals and upholding the mission of the organisation. Digital transformation can be an incredibly unifying experience – don't think of it as a challenge – instead embrace it as an opportunity to work more effectively across geographical boundaries. And be sure to choose a partner with global deployment suitability.
The productive conversation went through the duration of the luncheon and took a turn into areas like how to get buy-in for automation from a CFO (stay tuned for that blog in the future). The event wrapped with some expressing skepticism over the excessive hype around trends like blockchain, RPA, AI and machine learning – but they all agreed innovation and automation are drastically changing the way we work, and we must evolve as companies and as humans through digital transformation to stay relevant. I'm already looking forward to the next luncheon and what we will learn together.
Ready to learn more?
For more information on digital transformation, check our whitepaper – 3 Disruptive Trends for Finance & Procurement and reach out, we're here to help!
1 https://www.progress.com/docs/default-source/default-document-library/landing-pages/dach/ebook_digitaltransformation_final.pdf