What is digital transformation and how does it change the way we measure value?
What is digital transformation and how does it change the way we measure value?
The Hackett Group's research shows that addressing the impact of digital transformation on business has become the most critical imperative for enterprises in every industry.
But what exactly is digital transformation?
The Hackett Group defines enterprise digital transformation as: "the creation of business value by improving customer experiences, operational efficiency and agility by fundamentally changing the way organisations innovate, operate, deliver products and services, engage with stakeholders and execute work, using digital technologies as the enabler of holistic transformation."

While implementing technology has always been a part of business strategy, adoption of emerging technologies in procurement is critical in a rapidly changing business environment marked by intensifying competition and disruptive innovation (Fig. 1).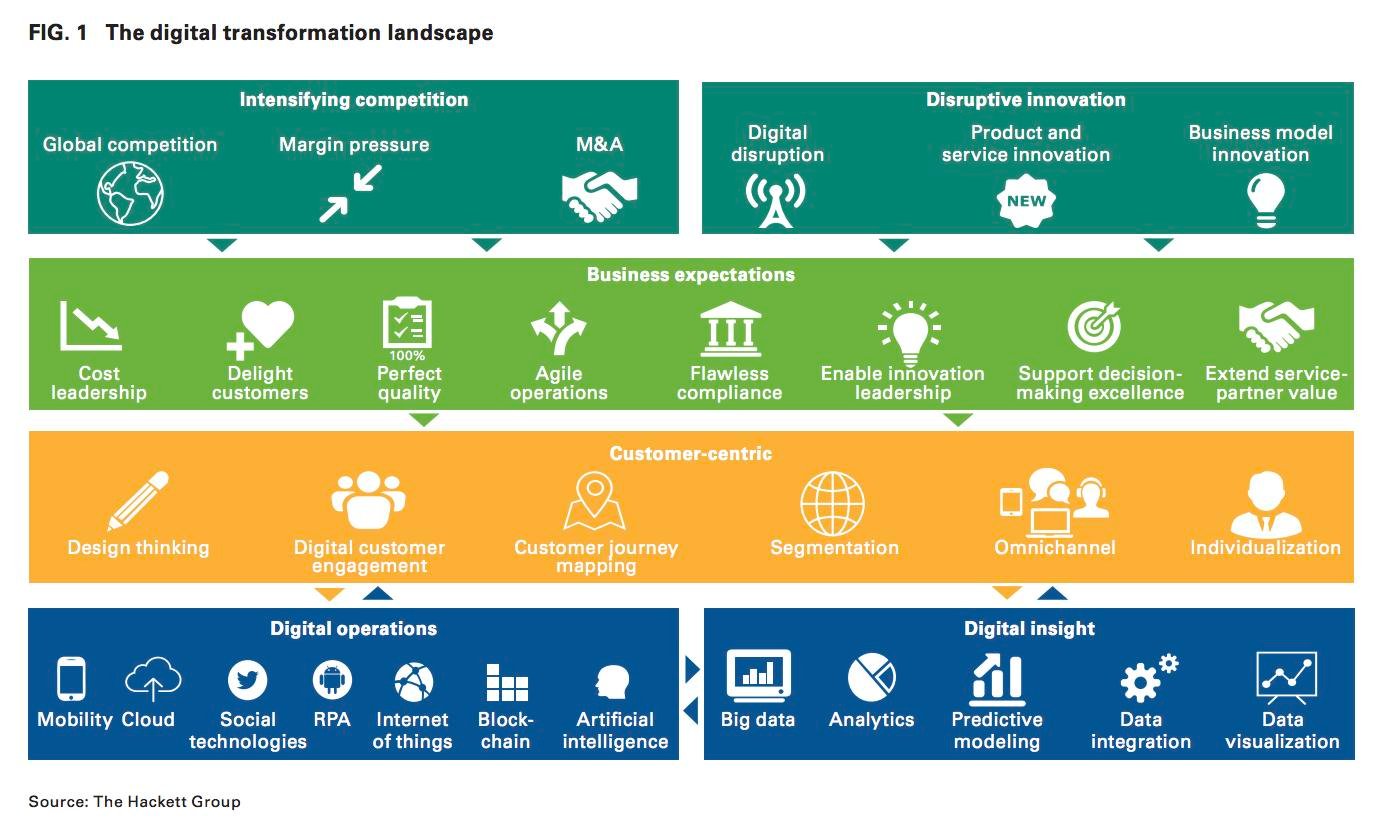 As the world of big data, robots, automation, and artificial intelligence takes shape, procurement is expected to provide more profound insights into supply relationships, including conventional cost structures, supply availability, lead times, and quality. Moreover, in this new digital landscape, business technology users are demanding consumer-like e-commerce interfaces from e-procurement systems to find the products or services they need quickly. Procurement in the digital age requires operational agility to prioritise customer service delivery while anticipating or even predicting new supply opportunities despite volatile market conditions.
How can we use digital transformation to drive new value in procurement?
Historically, The Hackett Group viewed valued creation in terms of the two "E"s: Efficiency and Effectiveness. However, with the changing technology landscape and increased importance of stakeholder satisfaction, it is time to expand how we define value. And that means the addition of a third "E": Experience. This broader view of procurement-enabled value allows procurement organisations to capture their minimisation of cost (Efficiency), maximisation of business value (Effectiveness), and now, optimisation of relationship and engagement value (Experience) (fig. 2).

Figure 2: Procurement-enabled value

Measuring value in procurement is not just changing the way we define value, but also how we measure it. Metrics should be reinvented to focus on predictive qualities and customer-centricity. For example, instead of successful risk mitigation, true value comes from risk prevention. Or in terms of efficiency, procurement should be measuring time to serve customers, instead of total cycle time (Fig. 3). Successful value measurement in procurement is no longer solely focused on cost savings. Now, the key is in understanding the mindset of stakeholders and using complex data to measure value created for businesses and customers.

Figure 3: Defining and measuring procurement value in the digital age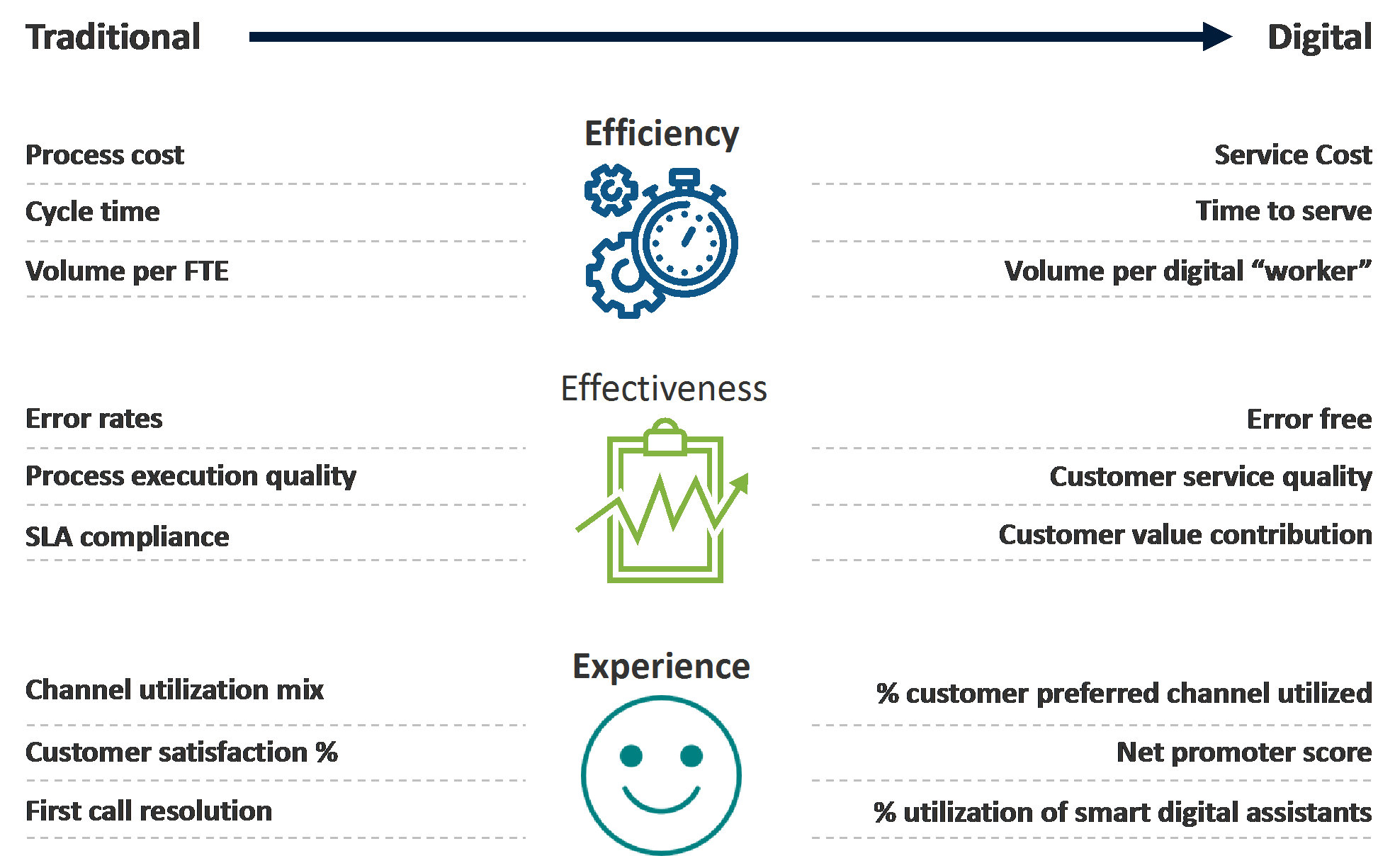 In this complex landscape, where should I start in thinking about digital value?
While we consider procurement's digital evolution, and which steps to take next, it is important to understand more broadly which standards procurement will be measured by. Here, we evaluate how the most common strategic value drivers for digital transformation currently align with the digital technologies that can address them.
Strategic value driver #1: Improve procurement's business value contribution
Increasing procurement's value contribution is the top-ranked strategic value driver among procurement organisations. Although procurement organisations successfully increased the amount of spend under management through first-generation e-sourcing and e-procurement technology, reduced resources and exponential growth in data make it difficult to achieve (or even measure) savings and efficiency targets. While emerging technologies promise unprecedented levels of automation to help with this challenge, many organisations want to consolidate their procurement solutions in cloud-based suites as a first phase of digital transformation before diving into new technologies that are not yet widely deployed. Adoption and accelerated rollout of cloud-based solutions has become a critical part of the digital transformation agenda. In fact, 88% of respondents to The Hackett Group's 2018 Key Issues Study expect to adopt one or more cloud-based/SaaS applications within the next two to three years.
Strategic value driver #2: Improve policy compliance and alignment with sourcing strategy
Organisations are using digital transformation to improve compliance and alignment with sourcing strategies. For example, procurement might leverage machine learning to refine methods for contract and compliance management. Given the amount of data held in unstructured contract documents that are often stored in disparate locations, managing against contracts may hold high degrees of risk and exposure associated with non-compliance. Many organisations have already established a contract repository, but today cannot link policy and compliance with broader sourcing, spend and supplier risk management efforts.
Strategic value driver #3: Improving speed and quality of procurement business decisions
Making the best choices depends on having suitable data and information on supplier, item and product masters. However, data availability and quality remain significant challenges for many organisations that want to improve the speed and reliability of decisions. Therefore, it is necessary to develop fit-for-purpose information architectures that adhere to data standards and align with enterprise needs. Master data management (MDM) is emerging as the solution for improving governance of structured data, but as part of digital transformation efforts, MDM should also be applied to unstructured data. While 73% of respondents in the Digital Transformation Performance Study already have an MDM initiative underway, advances in MDM are driving renewed interest in the technology.

With digital technologies comes endless opportunities to improve how procurement operates, but it also brings a new level of complexity. The most successful organisations will start by looking at the big picture, developing a strategy, and then using digital technologies to support those objectives.

For more information on digital transformation, check out this whitepaper from Basware on disruptive trends in procurement and finance.