Forrester's report, "Best Practices for Software-As-A-Service Operations" addresses the need for SaaS operations in organisations. However, many firms are in a place where though they recognise that the need for cloud operations in their procure-to-pay (P2P) operations is high, the understanding of how to properly implement it is low.
Key Takeaways of the report
In the report "Best Practices for Software-As-A-Service Operations," Forrester addresses the multidimensional nature of managing a cloud-service adoption program. The benefits of cloud are well-known and far-reaching across business operations. And now more than ever, cloud-based processes are absolutely vital to both the success and growth of global businesses. Here's why:
Cloud adoption is growing – Cloud software is constantly increasing in popularity and usage. According to Forrester, "SaaS makes up a significant portion of total product revenue spend in major application categories — 88% of desktop and collaboration apps, 83% of e-purchasing, and 76% of CRM."

Cloud decisions are now strategic and company-wide – Whereas in the past, cloud was adopted at the independent department level, it now has a centralised appeal where its benefits can be realised across the entire company. "Organisations are stepping up their game with more-targeted tools allowing visibility and management for SaaS consumption and with governance strategies that encompass SaaS more effectively."

Mergers and acquisitions lead to the need for quick collaboration – As companies grow, acquire, and merge with other firms, it's important that the new and acquired business get on the same page as quickly as possible. A definitive cloud strategy "helps realise potential business synergies more rapidly, an increasingly important consideration, given the rapid speed of the cloud age."

Remote work is here to stay and depends on cloud – The number of employees working from home has increased tenfold in the past year. In order to accommodate for the expanding "roster of SaaS instances and alternatives," IT teams are being pressured to provide better operational coverage for their organisations' growing cloud needs.

Security and costs fears are at an all-time high – Though remote working has been readily adopted by firms worldwide, the suddenness with which companies transformed to this new way of working was overwhelming, especially for security and cost management efforts.
So, given cloud's growing adoption, usage, and need, how do firms achieve it?
1. Understand the key differences between cloud/SaaS and on-premise solutions.
"One reason that SaaS operations is very different from traditional on-premises operations is the very different responsibility profile that SaaS presents. Although SaaS suppliers are taking on many of the responsibilities that would otherwise fall to the customer, the new challenge is understanding how it's being done, if it's good enough, and where that support stops."
2. Tackle the principal activities of SaaS operations.
This includes the classic operations, cost management, asset management, portfolio architecture and management, and security and access management.
"Effective SaaS operations rely on mastering a series of key processes having to do with SaaS implementation and governance that may or may not correlate with either existing suppliers or emerging startups addressing the unique requirements of SaaS operations."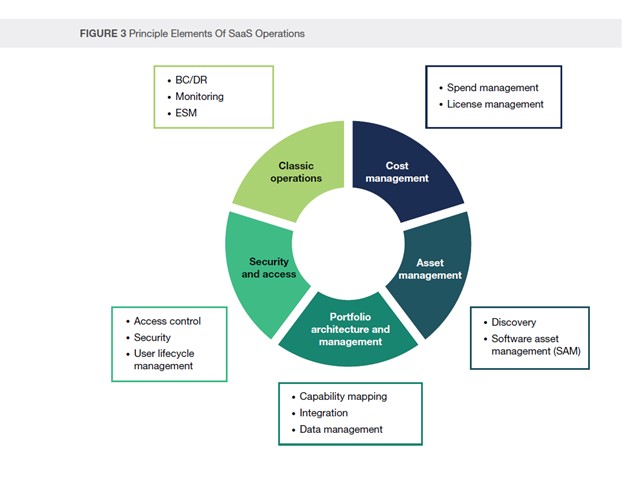 Rapid speed of cloud & benefits
So, with all this to consider, what are the true benefits of moving your business operations to the cloud?
First, business versatility and agility. For organisations looking to expand and grow sometime soon or somewhere in the future, cloud solutions offer the bandwidth needed to accomplish it. Given the flexibility it provides, organisations can increase their cloud capacity without having to invest in on-premise equipment. Being able to flex and scale as necessary gives cloud firms a big advantage over competitors who are still on-prem.
Next, increased collaboration and productivity. Cloud computing gives businesses the power to collaborate more successfully. Cloud enables teams to share files in real time, making it easy to edit and exchange files in the blink of an eye. Hence enabling individuals to work independently while being linked, adding to an increase in productivity. Even better, cloud computing gives users the ability to work and collaborate from a variety of devices, 24/7, just so long as they have internet connection. And with all system upgrades done automatically, IT teams can save tremendous time and effort.
A great example of the benefits of cloud services is that during the Covid-19 pandemic many of Basware's customer's reported that they were able to rapidly switch their shared service center wokforce to homeworking thereby keeping their business running – something that would have been impossible with legacy paper based on-premise systems.
Finally, disaster recovery and data control. A big fear of cloud transformations stems from a misunderstanding of the security it provides. Cloud plays a huge role, though, in loss prevention and data control. With on-premise approaches, all your data is stored locally on computers or stacked in filing cabinets. This leaves your data at risk for malware, viruses, user error, and even age-related deterioration. But cloud makes it so your data is accessible from anywhere with an internet connection, giving you complete visibility and control.
Procure-to-pay in the cloud
The need, benefits, and strategy for achieving cloud operations are clear. So how does it apply to your procure-to-pay (P2P) processes? Generally, on-premise P2P systems lack the flexibility needed to future-proof your business.
We live in a time when visibility into your transactions and transparency across your supply chain is of utmost importance. P2P on the cloud streamlines both procurement and AP processes for speedy orders and payments; it aggregates the real-time financial data behind those transactions to enable the visibility and control you need to reduce risk and produce savings – seamlessly.
Most importantly, having operations on the cloud builds the strong database needed to keep up with all the latest and greatest innovations available across the P2P process. That data, enabled by the cloud, lays the foundation for technologies including artificial intelligence (AI) and machine learning (ML).
In finance and procurement, ML and AI are enablers of a completely new era. These technologies impact the soundness of financial operations in a holistic manner – spanning from improving cashflow, financial analysis, increased spend visibility, and more.
Cloud based solutions like Basware's are always-on –collecting real-time spend data to build a usable data set. With this data, cloud customers gain 100% spend visibility thanks our unique capability to capture 100% of invoices regardless of type, promote 100% supplier onboarding, and develop 100% user adoption of e-procurement.
How does Basware enable best practice operations?
Basware's cloud services have been designed with customers' SaaS operative needs in mind:
Access management supports Single Sign On (SSO) integration with a customer's identity provider so that access can be managed by the customer using their access management system.

Integration with Basware's services is easy with APIs available and file-based integration methods also available for integration to legacy systems that do not support APIs.

Data exports are available if customers have their own BI team that would like to load data from Basware's services into their data warehouse.

Security is taken care of by Basware through independent external security audits that include penetration tests. Audit reports are made available to customers so that customers can in turn provide these to their auditors.

RPA compliant UIs and APIs are available so that if desired RPA can be used to automate tasks such as user account management.

Basware utilises state-of-the-art monitoring tools such as Dynatrace which, in conjunction with our 24/7/365 operations, means that customers have no need to monitor the services themselves.

Audit reports are available to support financial audits, for example, full audit trails of data changes made to financial documents such as orders and invoices.
Learn more
To read more about Forrester's recommendations to cloud success, download the report "Best Practices for Software-As-A-Service Operations" now.
Director of Platform Product Management for Basware Matt is Director of Platform Product Management for Basware. Matt has over two decades of software industry experience in a variety of roles including development, pre-sales, CTO of a software start-up, general management and product management. At Basware he is responsible for the platform product management solution line that develops platform services such as integrations, access management and big data services.