3 Ways to Get (and Keep) Digital Talent in Procurement and Finance
3 Ways to Get (and Keep) Digital Talent in Procurement and Finance
The Economist Intelligence Unit's report What's now and next for procurement and finance? discovered that a quarter of respondents have recruited specialist talent in preparation for digitisation and automation.
Three global macrotrends are predicted to fundamentally change finance and procurement functions over the next two years: automation, digitisation, and global trade. And in order to prepare for these trends, it's vital to equip your workforce with the proper skills and talents needed to deal with these changes and hire digitally savvy employees. With technology constantly evolving and automation becoming more prevalent across workforces, traditional, clear cut job roles are being forced to adapt. And because of that, employees need to adopt new skills.
But expecting employees to change so suddenly and so frequently can prove difficult. People feel most comfortable when things remain the same. So, they might put up a wall when it comes to adopting new skills. Luckily, there are a few ways to overcome this blockade and ensure your organisation is armed with a digital workforce in the face of digitisation and automation.
1. Actively recruit digitally savvy workers
According to the EIU report, 31% of respondents agree that recruiting employees with specialist digital skills will be critical to unlocking digital transformation in their organisations. Meanwhile, 25% of respondents have already recruited specialist talent in preparation for the impacts of automation. The best way to fill in any potential gaps in your organisation is to hire employees with these skills either partially or fully developed already. And it's not hard to do in today's technological day and age.
The main challenge is attracting new talent. Roles in AP, Finance, and Procurement are not necessarily the most appealing jobs or career paths at first glance. So, it's important to showcase the potential these roles hold thanks to an increased involvement with automation and digitisation. Creative problem solving, strategic decision making, and generally thinking outside the box are all attractive job descriptions for potential employees. And luckily, they are becoming more and more prevalent in these roles.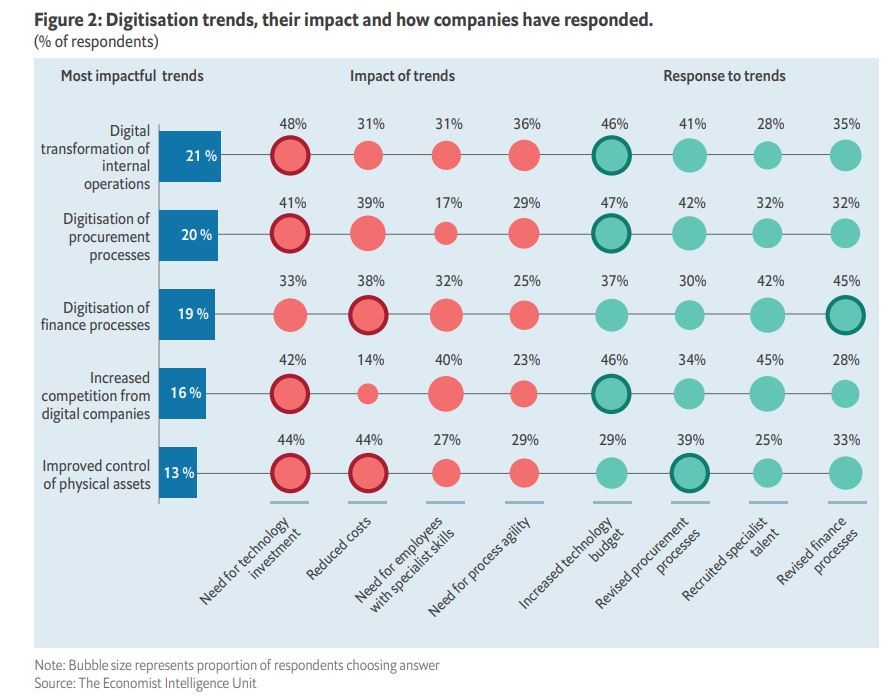 2. Upskill established staff
Marceau Pasquier, chief financial officer of the Framatome's installed base division, considers the combination of automation and digitisation together the greatest impact. And even without finance experience, new, digital-native hires in their twenties "use information and tools in very different ways" than their older colleagues. So, new employees are already coming in with an advantage over those who have been there longer. However, you don't want to replace your entire workforce with younger, tech-savvy employees. That would be ridiculous given the immense value of your more experienced employees. So, as important as it is to recruit newer, digitally educated workers, it's equally as important to empower your current staff with the tools, skills, and education they need.
Pasquier believes that forward-thinking finance departments must find new ways of training employees. "Training for the tools and the new processes is not that difficult. People are smart everywhere and if we train them well there's no reason that they can't adapt," he says. "We need to train our people to be used to change every two or three years and to be flexible and adapt themselves to this process. That's our major challenge."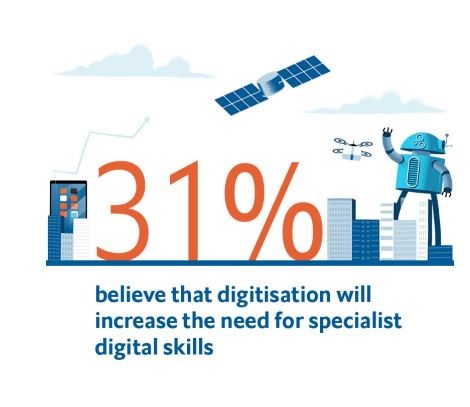 The 2017 report "The Digital Talent Gap—Are Companies Doing Enough?" reveals, "over half (54%) of the organisations surveyed said that the digital talent gap is hampering their digital transformation programs and that their organisation has lost competitive advantage because of a shortage of digital talent. Many employees are concerned that their skills are either already outmoded or will soon become so. Further, around 29% employees surveyed believed their skill set is redundant now or will be in the next one to two years, while more than a third (38%) consider their skill set will be redundant in the next 4 to 5 years."
Employees are worried that their talents aren't enough, and because of that, they're unintentionally holding their organisation back from digital transformation and preparing for a digital future. These high numbers of feeling that their skills will be or are already "redundant" can also contribute to low work enthusiasm, hindering not only the work being done, but the willingness and drive for these employees to continue developing their talents. So, how can you address this dilemma?
Upskilling programs are created with the intention of increasing productivity in their workforce by empowering employees with training and education. If an employee is confident in their job security, chances are they're willing to stick around. If they see their employer is putting in time and energy into engaging them with new information and skills, they'll feel more secure with visualising a career progression at that company. And comparatively, the cost of upskilling is much less than what it would take to hire a completely new team from scratch.
3. Adopt new digital platforms
Digitisation offers employers new ways to reach digital talent. Nicolas Roux, chief procurement officer SITA, believes that digitisation could be the answer to the question of "How do I find digital talent?" Gig economy platforms, for instance, offer contract styled work for short-term projects and cater towards independent workers. The gig economy has been on the rise for years, but with the introduction of new technologies, workers are turning more and more towards these roles. This type of work is most appealing to the Millennial and Gen-Z talent who actively rising into the workforce every day. Through offering this type of gig economy work, your company can already be one step ahead of competitors who, perhaps, require the traditional 9-5, in office, work. In a study with oDesk, it was discovered that 92% of millennials want to work remote and 87% want to work on their own clock, instead of the confined of a 9 to 5 workday. Given these numbers, it becomes even more important to revisit the way you use digitisation to both hire new talent and secure current employees.
The gig economy approach of locating talent gives you a pool of talented, self-employed individuals to choose from. "We are moving toward a gig economy, and we have to find ways to leverage such pools of good individuals with skills that might be able to help us," says Roux.
Ready to learn more?
Learn more about recruiting new talent, upskilling current talent, and ensuring your organisation is well-prepared for the future of Finance and Procurement. Download the EIU report now.